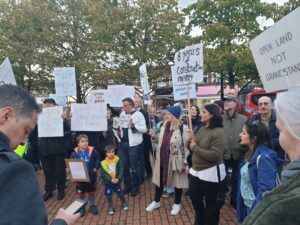 Merton Council have voted in favour to accept an application by Wimbledon Tennis to develop on the 73-acre site of the former golf club on Wimbledon Park.
A decision of 6 to 4 majority was made just after midnight, which saw councillors debating on a wide range of topics.
After the votes had been cast, a small disturbance could be heard off camera on the live video feed.
The Chairman Councillor Aiden Mundy then brought the meeting to a close.
A peaceful demonstration was held before proceedings started by campaigners who say the development is too large for the area.
Lib Dem councillors are now calling on Labour Council bosses to enforce historic legal promises on Wimbledon Park.
Lib Dem Parliamentary Candidate for Wimbledon, Cllr Paul Kohler, was at the Civic Centre for the planning meeting.
Paul said:
"I am disappointed but not surprised Merton's Development and Planning Committee has voted to allow the All England Lawn Tennis Club (AELTC) to build their industrial tennis complex on Wimbledon Park. Despite the overwhelming opposition of residents, civic societies and environmental organisations, the planning application was voted through by Labour councillors."
While the application has been given approval by the Council's planning committee, after a recommendation by planning officer, Paul says questions remain about the covenants that both the Council and AELTC agreed to when the freehold of the Golf Club land was sold to AELTC in 1993.
Paul says they bought the land for a 'knock down' price of £5.2m because they made binding legal promises "preventing the use of the land otherwise than for leisure or recreation purposes or as an open space".
Paul said:
"Up to now the Council have refused to exercise the covenants as they were waiting for the planning decision, but the time has come for them to exercise their legal rights and stand by the promises made by the Council and AELTC.
"To that end I have written to the Mayor of Merton asking for an Extraordinary meeting of the Council to discuss the covenants protecting Wimbledon Park, where I will be proposing that the Council enforces these protections. Local Liberal Democrats hope that Labour Council bosses will understand and appreciate the impact this development could have on the local area, and keep their word by enforcing the promises both the Club and Council made to the residents of Merton."
A spokesperson for the London Borough of Merton said: "After considering the officer's report, relevant submissions, and the relevant planning framework, the independent planning committee, made up of councillors from all parties, voted to approve the application made by the All England Lawn Tennis Ground (AELTG) for expansion of its site at Wimbledon.
"There are further stages in the planning process and the land remains subject to covenants contained in the transfer of 1993 from the Council to AELTG. Until these covenants are properly addressed by AELTG they operate to restrict the use and development of the land as proposed in the planning application."