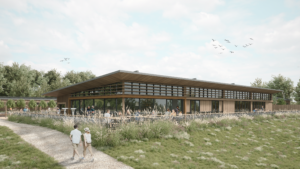 The Leatherhead-based charity needs £4 million to build the new centre, which would include an animal hospital and community hub.
Around £500,000 has already been raised through crowdfunding already after founder, Simon Cowell, launched "Simon's Last Wish" to try and raise the money through donations.
He has been diagnosed with terminal lung cancer.
He says "together we will create a replicable movement for environmental good that is driven by our communities".
The money was awarded from the council's Your Fund Surrey scheme and will allow one of the county's best-loved charities to create an exciting environment-themed attraction for the whole community. The accessible visitor centre and community hub will include meeting and learning spaces for community groups, schools and families, and an exhibition space, café and shop. It will host a range of activities including public talks, and leisure and well-being classes.