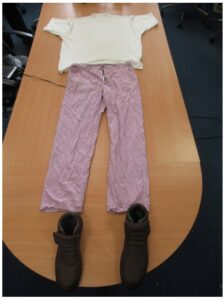 Khalife escaped from Wandsworth Prison on Wednesday morning.
The search for him remains a significant operation led by the Met's Counter Terrorism Command.
More than 150 of the Met's counter terrorism officers and staff, with support from colleagues across the Met and in other forces, have been working at pace around the clock, making extensive enquiries to try and find Khalife.
Detectives have received information from a member of the public who said they saw a man fitting Khalife's description walking away from a BidFood van that had stopped near the south entrance to the Wandsworth Roundabout, at the top of Trinity Road, shortly after his escape.
The man was then seen walking towards Wandsworth town centre.
This is one of several key lines of enquiry that officers are pursuing.
A reward of up to £20,000 is now being offered for information which leads directly to the arrest of Khalife.
To report a live sighting of Khalife, or information which is urgent, people are being urged to call 999.
Alternatively, anyone with information which might assist the ongoing enquiry can call police on 101.
The Met has also opened its UK Image Appeal website which allows people to submit any relevant imagery and video directly to the investigation team.
This could be CCTV, doorbell footage, mobile phone footage, or dash-cam footage.
Commander Dominic Murphy, who leads the Met's Counter Terrorism Command, said: "This remains a fast-paced and dynamic investigation, but I want the public to know that a large number of officers are working extremely hard to locate Khalife.
"We have now received more than 100 calls from the public, and we thank everyone who has contacted us with information.
"The sighting near Wandsworth Roundabout could be very significant, and this is one of many useful lines of enquiry that officers are perusing.
"We continue to urge the public to contact us straight away if they think they have seen Khalife or have information on his whereabouts.
"We will continue to work closely with all our colleagues in police services across the country and other partners to trace Khalife and bring him back into custody."
Officers continue to focus their investigative efforts in London.
This included search activity at Richmond Park overnight into the early hours.
A nationwide alert put out on Wednesday has resulted in increased security at ports and borders.
Met Police statement:
We continue to assess that Khalife does not pose a threat to the wider public. However, we advise anyone who seems him not to approach him and instead call 999 immediately.
Former soldier Khalife, aged 21, was declared missing at 7:50am Wednesday. The Met was notified at 8.15am and took immediate action to track down a delivery van that had left the prison.
At 8:37, police officers stopped the van in Upper Richmond Road, near the junction with Carlton Drive. Officers spoke to the driver and carried out a thorough search. Police discovered strapping on the underside of the van.
We believe Khalife was hiding underneath the van and used this strapping as part of his escape.
We previously gave details of the route the van which we believe Khalife escaped on took after it left Wandsworth Prison, based on GPS data detectives had obtained from the vehicle.
As a result of further CCTV enquiries, we can clarify that the van took the following route upon leaving Wandsworth Prison.
After reaching Wandsworth Roundabout, the van turned onto Swandon Way and the van remained on the road until turning onto Fairfield Street.