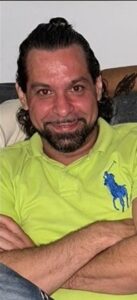 A teenager has been arrested in connection with the murder of a man in Wallington.
The 17 year old male suspect was arrested yesterday morning on suspicion of murder and remains in custody.
Officers were called just after 9pm on Monday to Typhoon Way where there found 42 year old Luke Blackmore, above, suffering stab injuries.
A 44-year-old woman was arrested on suspicion of making threats to kill and has been bailed pending further enquiries.
Leader of the the Council, Councillor Ruth Dombey said:
"I am devastated to hear the news of a fatal stabbing. My thoughts are with the family and friends of the individual who has so tragically lost their life.
"Roundshaw is a close knit community and I know that people will be very concerned about what this means for their community and their neighbours. We are in touch with the police and will fully support their investigations.
"In Sutton incidents such as this are very rare but with the events of the past few days in our neighbouring borough, this latest news will no doubt add to people's levels of anxiety.
"We will be working to support residents as they come to terms with this tragic news.
"I urge anyone with information to contact the police on 101 or report anonymously to Crimestoppers on 0800 555 111.
"I want to thank the Police for acting so quickly to local concerns and successfully making an arrest.
"We remain in touch with the police and are continuing to fully support their investigations.
I am glad that an increased police presence will remain in the area for the time being to reassure residents who have been badly shaken by the incident.
"We also continue to support our residents at this difficult time."