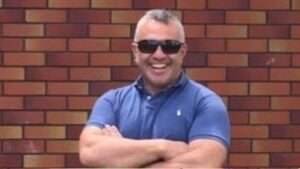 The 54 year old was shot to death in a custody cell in September 2020.
Louis De Zoysa from Banstead had been arrested and searched but managed to hide an antique revolver in an underarm holster.
Senior coroner Sarah Ormond-Walshe said there was a "failure to carry out a safe, thorough and systematic search".
Deputy Assistant Commissioner (DAC) Stuart Cundy, said: "My first thoughts are with Matt's partner Su and his family. The appalling act of violence that stole Matt from them continues to have a lasting impact on all his loved ones and the large number of people whose lives he touched, both inside and outside of the Met.
"At the time of his tragic murder just over three years ago, Matt had served the public for almost three decades. Like others, when I heard Matt had been fatally shot I was utterly shocked. The accounts of the officers who gave evidence highlighted the dangers and the challenges police officers face.
"The arresting officers recognised that their search and observations of de Zoysa could have been more systematic, and should have found the firearm. Later at the police station these same officers showed great courage in disarming de Zoysa whilst he continued to fire the gun. I admire their bravery and that of everyone who was in the custody centre that night.
"Matt Ratana's murder was a stark and terrible reminder of the risks and challenges police officers and staff undertake every time they turn up for work.
"We will never forget Matt and will continue to honour his legacy, which will live on through his family, his many friends and colleagues in the Met, in his rugby foundation and beyond."
The events surrounding the murder were independently investigated by both the Independent Office for Police Conduct (IOPC) and the Health and Safety Executive (HSE).
The IOPC investigation into the search, observation and transportation of de Zoyza found no indication any of the officers – including the two arresting constables – behaved in a manner that would justify the bringing of disciplinary proceedings, or that they had committed a criminal offence.
The IOPC did identify some learning for the two arresting police constables around body searching and transportation of detainees. They also recommended to the National Police Chief's Council (NPCC) the implementation of handheld metal detectors in all police response vehicles and vehicles used to transport detained persons.
The HSE report concluded it was satisfied that the MPS had implemented changes to its safety management system that enabled better control of the daily risks our officers face.
Officer and staff safety is critical for the Met and it acted quickly to implement improvements in response to the tragic events at Windmill Road.
Over 4,300 detectors have been deployed for use in all custody suites and by frontline officers in vehicles as well as an extra pool being allocated for officers on foot/cycle patrol.
The Public and Personal Safety Training (PPST) for officers – the training relating to physical searching has been fundamentally reworked and incorporates learning from real life cases with significant emphasis on repeated practice of scenarios to equip officers with practical skills they can deploy instantly
Custody sergeants must wear Met vests when meeting detainees in a holding/searching area, where they are triaged before entry to the custody suite itself
The Met was the first police force to have piloted an airport-style 'body scanner' in one of our custody suites. The pilot is currently being evaluated and learning will be used to inform our next steps.
DAC Cundy said: "Whilst we can never eliminate risk entirely, the Met is committed to do all it can to keep officers and the public safe".