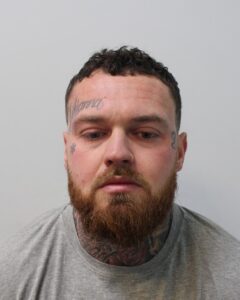 Between March and June 2020, 33 year old Sam Coleman obtained firearms and ammunition to protect his drugs business.
He was involved in the supply of cocaine with an estimated street value of £936,000.
He was also charged with conspiracy to supply more than 26kgs of the Class A drug.
Detective Constable Andy Chapman, from Op Eternal in Specialist Crime, said: "Coleman arranged large-scale drug deals with his ultimate aim being to make as much money as possible, with no thought of the misery and devastation caused in communities by drug supply, and the violence it leads to.
"He thought that Encrochat gave him anonymity and the freedom to openly arrange serious crimes, and shielded him from law enforcement. However, multiple teams across the Met have worked for several years to identify Coleman, and build what was a rock-solid case against him.
"Op Eternal investigations over the last three years have resulted in the Met identifying and jailing major players in the criminal fraternity, and stemming the flow of drugs and guns onto the streets. The drugs trade relies upon exploitation and violence to operate and we will continue to relentlessly pursue those involved, and put them before the courts."
European partners provided, via the NCA, data to the Metropolitan Police around the Encrochat system in 2020.
On receiving data relating to those using the devices in London, the Met launched an operation named "Operation Eternal" to target Encrochat users believed to be operating from the capital.
Specialist Crime officers and staff from Met Intelligence were able to review data and were able to attribute the owner of the 'Lousybrandy' handle as Sam Coleman. They began investigating the Encrochat handle in late 2020.
This handle was viewed and prioritised not only because it was involved in the onward supply of large amounts of cocaine but also firearms.
Coleman had obtained the drugs from another Encrochat handle, who was working as part of an organised crime network, with access to large amounts of cocaine.
'Lousybrandy' had facilitated the supply of these drugs to others via another Encrochat handle. There had also been significant discussion by 'Lousybrandy' in relation to the obtaining of firearms and ammunition.
There was compelling evidence which led officers to link Coleman to the handle 'Lousybrandy'.
On the 23rd of  February 2021, officers from Central Specialist Crime's Op Eternal team carried out a search warrant at Coleman's address and car. They seized cocaine, a knife, watches and £36,325 in cash.
Coleman was arrested at his home address and charged.
Officers from the Met's Cyber Crime team analysed Coleman's phone and discovered images of kilogram blocks of cocaine, large amounts of cash, and a large amount of cannabis.
Within Coleman's search history there was also evidence of a conversation in which he had planned to buy cocaine purity test kits.