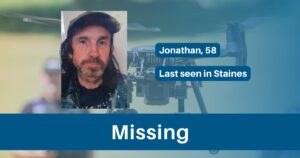 58 year old Jonathan was last seen at The Last Hop Pub on Saturday night and then travelled along the Penton Hook Marina on a black bike.
He's 5ft 6, has long, dark hair and a moustache and was in skinny black jeans, a pale denim jacket, black boots with white laces and a baseball cap.
Anyone with information on his whereabouts is urged to contact police on 101.